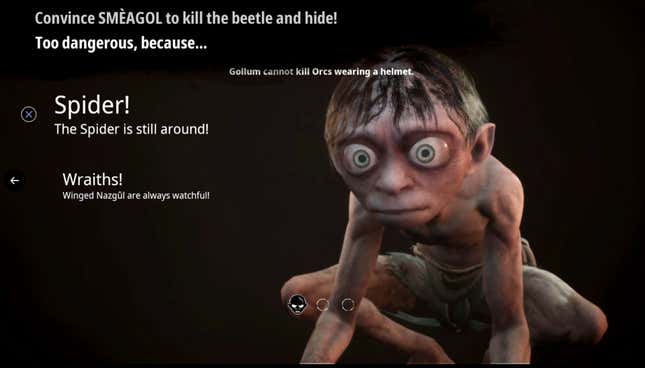 There's a new Lord of the Rings video game out that focuses on Gollum, the corrupted hobbit once known as Sméagol. It isn't very good, though, rapidly becoming one of the worst-reviewed games to have launched this year—and we're only halfway through 2023. One particular aspect that's being singled out for derision is its sparse UI, which is getting dragged to hell and back online.
Read More: Redditors Are Competing To Make The Worst User Experience Possible
I don't blame you if you forgot about The Lord of the Rings: Gollum. After suffering a couple of delays that pushed it out of its 2021 window, Gollum finally hit PC, PS4/5, Xbox One, and Xbox Series S/X on May 25. A stealth-based action-adventure game, Gollum puts you in control of the eponymous loincloth-wearing hobbit in a story that occurs eight years before The Lord of the Rings. As Gollum, you sneak around fantasy author J. R. R. Tolkien's world, engaging in light puzzles and dialogue sections to help the iconic bugger get his Precious—the One Ring—back into his grubby little hands. Critics strongly dislike it, though, and people are especially baffled by the flat user interface.
Gollum's got some buggy eyes
Players across the internet, but on Twitter especially, can't seem to peel their eyes away from developer Daedalic Entertainment's odd UI decision-making. Writer Alex Avard, who reviewed Gollum for GamesRadar, tweeted a comparison of an earlier promotional screenshot and one from the finished product, showing the stark difference between the two, particularly around Gollum's character model and the typeface used for the user interface.
"Gollum is one of the worst games I've played in a while," Avard said. "If you can't be bothered to read the full review, the difference between this promotional screenshot and the actual game gives you a decent summation of why."
Gollum's character model has changed quite dramatically between the game's March 2019 announcement and the May 25 release, with his head getting smooshed a bit and his eyes looking even more bug-like than they do in other interpretations of Tolkien's character.
"Why does the 2001 [computer-generated image of] Gollum look better than a 2023 handcrafted model," asked Twitter user DrgnMstrAdam.
Gollum's also got some Calibri-looking-ass font
That flat-looking font is another element that's attracting a lot of attention from folks online. Writer Andy Kelly couldn't understand why the game has a typeface with no personality, one that appears very, very similar to the modern digital sans-serif font called Calibri.

"Watching a review of that Gollum game and I'm fascinated by its utterly spartan UI," Kelly said. "Like, why this typeface. Why no styling or personality whatsoever." Kelly then tweeted the same screenshot but with his own edits, changing the font and adding some drop shadow to make it "instantly better."
Deep Field Games' CEO and design director Geoff Keene replied to Kelly to note that, weirdly, Gollum does make use of a more thematically appropriate font, but in a totally different place.
"Double weird because the [game's] subtitles are more fantasy font," Keene said. "Which is usually the opposite of how it should be."
Read More: The Lord Of The Rings Game About Gollum Is Getting Absolutely Roasted
Yeah, this is one of those games that could've used more time in the development oven. With a 38 on Metacritic and a 42 on Open Critic, fans of The Lord of the Rings or stealth games in general may want to look elsewhere. In fact, if you want to play a solid game based on Tolkien's world, you should check out Middle-Earth: Shadow of Mordor and its 2017 sequel, Shadow of War. Both games are very good, if a bit familiar in their Ubis0ft-like design ethos.