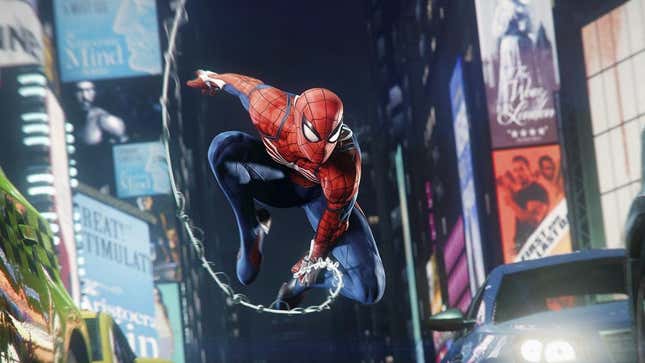 Years after its initial release, you can finally buy Spider-Man Remastered on PS5 all by its lonesome. It's a bit late, but still arrives just in time for anyone who wants to catch up before Spider-Man 2 arrives later this year.
Pokémon Scarlet And Violet's 'Free Exploration' Isn't All It's Cracked Up To Be
The web-crawling action platformer was previously locked behind the Ultimate Edition of Spider-Man: Miles Morales as a bonus. Much to everyone's frustration and confusion, there was no way for PS5 owners to simply upgrade from the PS4 version of Spider-Man without buying an entirely new game. It was a very video game thing to do.
This week, Sony announced over on the PlayStation Blog that the 2020 remaster would arrive as a standalone game on the store for PS5 players. First-time buyers can get it for $50 while those who already own the game on PS4 can upgrade for $10. Save data carries over as well.
Read More: Is Spider-Man: Miles Morales Better Than 2018's Spider-Man?
Though the remaster comes with a host of visual improvements, the biggest change was retconning Peter Parker's face to make him look more like the Hollywood star who plays him in the current Marvel movies, Tom Holland. The other main bonuses are a dynamic 4K at 60fps mode and super fast load times thanks to the PS5's SSD drive. And of course it comes with the three story DLCs from the original game which are nice but not essential.
I actually think Miles Morales, though a slightly smaller game, is the better one overall. It gets a reprieve from the usual superhero origin requirements and parade of Spider-Man cameos to focus on a smaller, more personal tale about negotiating between new ideals and old loyalties. Its depiction of New York's Harlem neighborhood also has more texture and warmth than the original game.
All of which is to say that if you're completely behind on PlayStation's Spider-Verse, you'd do well to just grab both through the Miles Morales Ultimate Edition and catch up on the whole thing. Spider-Man 2 doesn't have a release date yet, but early reports are that it's likely to arrive around September.