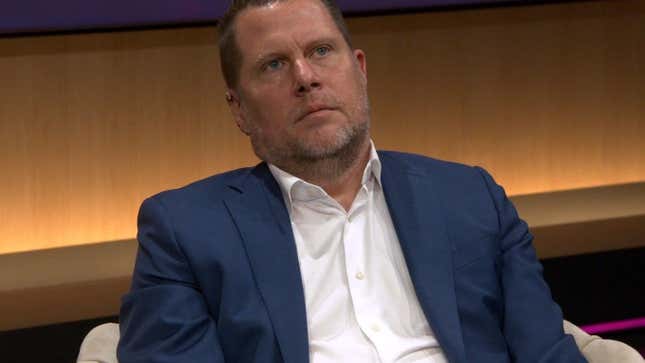 Embracer Group CEO Lars Wingefors looked dejected during his gaming conglomerate's latest earnings presentation. Despite recently acquiring the gaming studios behind Deus Ex and Tomb Raider at a bargain, Dead Island 2 releasing to strong sales and good reviews, and now owning the rights to The Lord of the Rings, Embracer's stock is in the tank today after it was revealed the company lost out on a $2 billion game development deal at the last minute last night.
The Witcher 3 Meets Tense Roguelike PvE Card-Battling In Rogue Mage
"Up until late last night, we had an amazing cash flow because of that transaction," Wingefors said amid heavy sighs and pregnant pauses during a May 24 Q&A session. Without ever naming the company who backed out of the $2 billion partnership, he said Embracer had a "really strong commitment" from someone it trusted. In a press release he wrote that the agreement would have been transformative for the company and "set a new benchmark for the gaming industry."
For years now, Embracer has been snatching up every small publisher and game studio it could find. In 2020 it was Saber Interactive (World War Z). In 2021 it was Gearbox Entertainment (Borderlands). And in 2022 it was Crystal Dynamics (Tomb Raider) and Eidos Montreal (Deus Ex, Thief). Sometimes the results have been mixed. Last year's Saints Row reboot had its moments but launched in a sorry state. Sometimes it's worked out. Dead Island 2, which spent years in development hell getting traded from one studio to the next, came out last month and was actually quite decent.

The big question now is who Embracer was planning on partnering with and for what. Wingefors said the company had been working on the deal since last fall, with hundreds of specialists involved on both sides, and a strong belief it would all work out despite some logistical challenges. The list of companies that could likely even afford a $2 billion commitment is quite small.
Sony, with its penchant for PS5 exclusives, is one possibility. Microsoft, which is in dire need of new blockbusters for Game Pass, is another (Crystal Dynamics is also currently involved in the first-party Xbox exclusive, Perfect Dark). Massive Chinese conglomerates like NetEase and Tencent might also fit the bill, or maybe even a U.S. tech giant like Amazon or Netflix, both of which are trying to add game content to their streaming and entertainment businesses. Embracer purchased the rights to The Lord of the Rings for $770 million last August, right before talks for the deal apparently began.
Whoever ghosted Embracer, the Swedish holding company's been left in a tough spot. Its stock price plummeted nearly 45 percent in a single day following the news. It's also facing a number of internal game delays. A remake of Star Wars: Knights of the Old Republic originally in production at Aspyr, the Austin-based studio Embracer purchased for $450 million in 2021, was reportedly in trouble as of last year. We are also due for another Metro shooter from 4A Games, though the studio is based in Kyiv, Ukraine where a war with Russia is now in its second year.