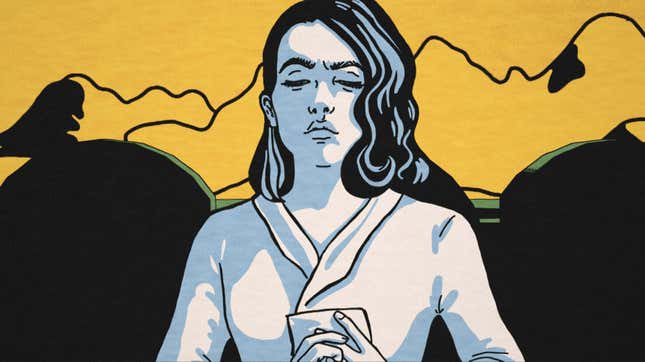 Hello, sit down, and welcome. It's time for some Indiegeddon! This is where I distract the entire Kotaku crew with a barbecue-based holiday, and take over the site with indie games that otherwise struggle to get coverage on major gaming sites. You, in turn, wishlist then buy all these games, causing a total revolution within the industry that sees all the AAA publishers toppled, and indie developers enriched and in charge.

The Top Ten Most Played Games On Steam Deck: January 2023 Edition
Here are the usual caveats: in the vast majority of cases, I haven't played these games, and cannot vouch for their quality. That's mostly because most of them aren't out yet. I blew into the Indie Horn over the weekend, calling for developers of unknown or under-known games to send me some details, so we could give them the ol' Kotaku bump.
If you click Steam's "wishlist" button on projects you find interesting, you do the developers an incredible favor: letting Valve's algorithm know about it. If you then buy the games when they come out, you change the world. With that in mind, let's get cracking on a first batch.
---
An Elaborate History Of Chess
One of my favorite gaming tropes is the mythologizing of chess, and An Elaborate History of Chess looks to do that splendidly. In fact, to just quote from its Steam page, "In true Chess tradition build castles, explore dungeons, farm turnips and get checkmated by a tree." It also promises that we can "find answers to Chess's darkest questions, like why the horse piece moves in an L-shape."
This is a strategy-cum-city-builder, and a game that finally acknowledges chess's unspoken piece, the Ghost. It's only just been announced this month, so there's no release date yet, but you can wishlist it already.
Developer: Iteration Games
Out: Coming Soon
Wishlist: Steam
---
House Hopper
I didn't know how much I needed a game about being a sponge scourer until I saw the trailer for House Hopper. A game in which you can also play as a screwdriver. Or an egg.
It's about propelling these usually sentient objects around a house, gathering keys and opening new areas. And it looks ridiculously charming, all created by a two-person team. The question is: can they resist getting rich with a Sponge Daddy DLC?
Developer: Random Games Generator
Out: Late 2023
Wishlist: Steam
---
Where Birds Go To Sleep
A text adventure, with beautiful art, where you don't play as the main character but rather his subconscious? I'm in! That's Where Birds Go To Sleep, an incredibly ambitious-sounding project, in which you attempt to influence the decisions of a "horrible, vile and cruel smuggler," although whether for good or ill is up to you.
What an absolutely brilliant premise, from a two-person developer with an amazing name: Quiet Little Feet. There's a demo on Steam, in which the writing and voice acting is fantastic.
Developer: Quiet Little Feet
Out: TBA
Wishlist: Steam
---
DepowerBall
DepowerBall is a four-player single-screen party game, in which players vote for a suite of powers for each match, then start taking them away from anyone who's winning.
The video above has some excellent footage of people playing it in real life, and their accompanying excitement and moods, which makes things look very compelling. That's in large part because of all the fun of voting to take away powers from anyone who wins a round, forcing people to adapt on the fly.
Developer: Mega Power Games
Out: Late summer 2023
Wishlist: Steam
---
Turbo Sloths
You know how you're always going on about how you want a version of Mario Kart that's set in an apocalyptic wasteland where you drive enormous steamrollers and violently destroy all the other racers? Well, you can finally stop whining, because the oxymoronic Turbo Sloths is here.
Using upgrades and boosters, you can make your hefty metal can into a racing machine, as well as a very destructive one. The game came out late last year, but despite a slew of positive reviews from players, has been entirely overlooked by the gaming press.
Developer: RainStyle games
Out: Now
Buy: Steam
---
Tales of Seikyu
It's not a true Indiegeddon until there's at least one farming sim. Here it comes in the extraordinarily dramatic form of Tales of Seikyu, a game of farming and battling off threats from the Old Gods.
This is deep fantasy stuff, primarily inspired by Asian folktales, but with a few Western creatures like vampires in there too. It'll feature dungeons, puzzles, and even multiplayer, alongside—you know—working on your farm.
Developer: ACE Entertainment
Out: 2024
Wishlist: Steam
---
Salvus: Aries
Following a successful Kickstarter last year, romantic visual novel Salvus: Aries is still a long way off. A release date of 2025 might make this feel like something to set aside, until you learn there's already a demo you can play right now.
Salvus: Aries is an otome that kicks off with the game's heroine protagonist killed. Which might seem a somewhat of a downer, but it looks like the afterlife is going to offer her plenty of sexy opportunities. Oh, and also she's a reaper now.
Developer: Rosemilk Studio
Out: Q1 2025
Wishlist: Steam
---
Super Fantasy Kingdom
You probably haven't wondered what might happen if you combined Settlers with Vampire Survivors, but now I've suggested it you'll want to know. Super Fantasy Kingdom is that pitch, where you work on building your kingdom, in between onslaughts from squillions of invaders. It's such a neat idea, and the first example of an evolution on the VS format that I've seen so far.
There's a demo on Steam that just came out, although a release date has yet to be announced.
Developer: Feryaz Beer
Out: TBA
Wishlist: Steam
---
The trailer above is just so compelling to me. I love the art, I love the sounds, I love the voice acting, and I love the way you interact. In fact, there's another 20 minutes of it to watch via Alpha Beta Gamer, or you can play it for yourself via the game's prologue on Steam. Which I'm about to, because this looks like everyone I want.
Phoenix Springs is a mystery adventure, seemingly very deliberately light on details, but with an aesthetic I want to use to decorate my home.
Developer: Calligram Studios
Out: Summer 2023
Wishlist: Steam